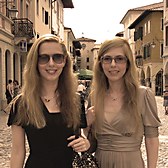 Identical twins Anna and Elena Balbusso work side-by-side at a desk in their top floor apartment in a leafy neo-classical neighborhood in Milan, Italy. The illustrators can't imagine doing anything else.

"We began drawing at three-years-old," Elena says.

"It's been our passion since we were little," Anna adds, her voice overlapping Elena's, their answers becoming a duet. "For us it was our play toy, our game."

For the strawberry blond pair who look as if they'd stepped from a Botticelli painting, their love of drawing never lessened and, unlike many Italian teenagers, their choice of which high school to attend was an easy one. In Italy students must select from a menu of high schools concentrated in specific areas of study such as science, classics, language or business. For adolescents still unsure of their interests, it can be a difficult decision because of its impact on future educational and career opportunities. For the twins, the liceo artistico was a simple choice.

"Our high school was equivalent to a professional art school, five years of study," Elena explains. Even though the curriculum at their school focused on design and photography, the pair never stopped drawing. When they graduated with professional-level portfolios, the sisters freelanced separately as graphic designers in their home city of Udine in northeastern Italy. Their illustrations found their way into much of their design work.


But the desire to continue their art studies soon drew them to Milan; by the time they were eighteen, they had enrolled in the Accademia di Brera, part of the Italian university system. "Illustration as a subject didn't exist at the university level," Anna says. "There was a point of division between l'arte superiore and l'arte applicata such as illustration or graphic design."

"We received a degree specializing in painting from the accademia after four years," Elena says. "We did work completely different..."

Anna interrupts. "Abstract painting, we studied abstraction." The sisters laugh as they look over the table in their studio where they've displayed recent illustration projects, none even remotely abstract.

"At Brera we learned about all aspects of painting and color." Elena and Anna take turns describing their time at school. "Before, we were better at drawing, less skilled with color. After, we were better at color and composition."
Upon graduation from the Accademia di Brera, the sisters had intended to work as graphic designers, but fate intervened. The first half of the 1990s were lean times for advertising and graphic design in Italy. With no contacts and little design work, the Balbussos returned to what they loved to do, illustration.

They joined the Associazione Illustratori and began submitting work to its competitions. Not long afterward they got a big break when Angelo Sganzerla, creator of cosmetic firm L'Erbolario's identity, noticed one of their pieces in a show. That led to their first job in Milan and to many assignments from the designer during a relationship that lasted many years.

Acting as a mentor to the sisters, Sganzerla introduced them to the international design world and encouraged them to define their own path in illustration. "From him, we learned the importance of developing our own style," Elena says. Up to that point, they'd worked in whatever style was requested.

Elena explains how they came to work together after graduating. "In Milan, there weren't a lot of publishing houses, so one of us would get an appointment to show our portfolio. An hour later, the other one would have an appointment with the same person. Finally the editors commented that it was too confusing. That's when we created a single identity."
From Balthus, it is possible to see how to represent facial expressions, especially those of children. He was very good at painting young girls. We also looked at Goya, for the adults." — Anna Balbusso


Although they'd established their studio together in 1994, it wasn't until 1998 that they fully developed their personal style. An Italian furniture company had hired them to illustrate a catalog and gave them free reign. Mining their unique background in painting and art history, the sisters created images that reflect the style they're known for today.

They explain how they work together. "Elena tells me what she imagines, and I tell her what I imagine," Anna explains. "We always start by talking and imagining what we want the project to be. Then we ask ourselves what references we want to make to paintings, to specific artists. It helps us to look at a lot of paintings from the period we are illustrating; in all our work there is a clear reference to artists and paintings."

"It's like making a film," Elena adds. The sisters' voices overlap and Anna finishes Elena's sentence. "We research the historical setting, the clothes, the colors of a period."
In their early work, they painted with acrylic on flat canvas. Today they still create their artwork by hand, fatto a mano, but they scan it and then assemble and color it in Photoshop. "Anna has a specialty with faces," Elena says. Anna creates notebooks of sketches on transparent paper for each job. Elena, on the other hand, is the expert in the dry brush elements in their multi-layered work. In one of their illustrations, working with her collection of flat brushes and a library of papers of varying surfaces, Elena paints elements that become a texture of overlapping winter trees or the geometric patterns hemming a Roman toga. Anna works on the opposite end of the scale, painting facial details with the tiniest of brushes, some with only a single bristle. While the sisters work together initially, only one of them completes each piece of art.

Their style—a convergence of drawing, painting and graphic design with a deep knowledge of art history—has blossomed in the fourteen books the twins have illustrated for Black Cat Publishing, an Italian publisher of English language classics for children. For a recent project illustrating Charlotte Bronte's Jane Eyre, they researched English painters of the 1800s. For other classics in the series, they looked at Velasquez, Goya and Balthus. Anna gets specific, "From Balthus, it is possible to see how to represent facial expressions, especially those of children. He was very good at painting young girls. We also looked at Goya, for the adults."
In Milan, there weren't a lot of publishing houses, so one of us would get an appointment to show our portfolio. An hour later, the other one would have an appointment with the same person. Finally the editors commented that it was too confusing. That's when we created a single identity." —Elena Balbusso


They cringe when editors dictate how a scene should be illustrated. When one client insisted they convey joy by making the characters in a scene smile, the sisters battled back. "No!" Anna says in the staccato of Italian. "We wanted to convey happiness through the colors, the atmosphere in the painting, the position of the characters in the room, the psychology conveyed by those elements." They won that battle and the trust of that editor.

They're also challenged when publishers insist that children's titles be illustrated in bright colors. "We believe every story has its own palette," Elena says. They were relieved when South Korean Yeowon Media, who hired them to illustrate Shoe Leather Charlie, shared their color vision. The illustrators employed grays to reflect the Industrial Revolution, the time period of the book, and then used warm red to contrast the main character's shoes, a gift from the child's grandfather. The shoes carried the emotional impact in the story and became the cover image. The sisters' instincts about the visual direction for the book were correct and it has garnered many awards.

While winning awards has made convincing clients easier, entering illustration competitions and winning them has been key to expanding their client base outside of Italy. Catalog retailer L.L.Bean discovered Anna and Elena in a Communication Arts Illustration Annual and last winter commissioned the pair to do its holiday cover.

The Balbussos also rely on their Web site (designed by their brother) and their reps in New York and Paris to add to their global client list. The sisters are now accustomed to the varying expectations of clients from different countries. "We love working for the French. They give us the concept they want illustrated and then let us free," they say. When Anna and Elena are left free, they choose as their starting point the angles, layers and colors of Futurism, Cubism and Constructivism, their favorite periods in art history.

The sisters continue to cultivate their career, deciding what they want creatively from each project before taking it on. They've also started to consider where they want to work. When they first started their studio, they had to be in Milan but with Internet connectivity, they dream of working from Udine, or Paris, maybe New York.

On the street below the Balbussos' apartment, Elena's flat brushes could have created the overlapping pattern of just-blooming trees. Anna could have chosen the pastel palette for the palazzi lining their street. Wherever in the world their work may take them, the Balbusso twins are adding another layer to Italy's rich artistic legacy. ca