"Spider webs dancing between strands of barbed wire. A surreal off-season pool. Barns lit by the light of the moon; these are the things I like to come across—abandoned, overlooked places that take on a certain magic when no one's around," explains Chip Forelli. "I'm an opportunistic photographer. What I shoot can't be categorized. My mission is to reveal the unexpected in a compelling way."

Forelli has been revealing the unexpected for most of his life: from still lifes of cosmetics to industrial shots of oil rigs, from close-ups of mosses and ferns to panoramic landscapes. He has shot for ad agencies, marketing firms and corporate art buyers, but mostly for himself.

Forelli grew up on Long Island, New York, and always loved art and science. Believing that architecture would be the right career to combine the creative and the technical, he got his architecture degree from New York Institute of Technology in 1974, but was quickly disenchanted by the positions available to new graduates. "We all wanted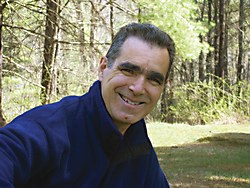 to design private homes but found ourselves detailing concrete slabs," he explains. He spent weekends playing bass in a local rock band and taking pictures with his Nikon. When a band member gave him a copy of The Creative Black Book, he realized that photography was the career he'd been yearning for. After producing a portfolio of still lifes of everyday objects he landed an entry-level job assisting George Nakano, a New York City still-life photographer who specialized in food and cosmetics. That meant loading cameras, syncing strobes, brushing dust specks off lipstick tubes, taking film to the lab and running out for sandwiches for clients. "I got to work early and left late," he recalls. "It was tough, but I learned great lessons. Most importantly that there are no shortcuts." Five years later, in 1984, he was on his own, freelancing out of a 400-square-foot apartment on West 46th Street, doing still lifes for Westvaco, Revlon and Estée Lauder. "Still life is the best training in photography," he asserts. "Everything is within your control." His portfolio still includes images of ordinary things seen in extraordinary ways: postage stamps, pencil shavings, rubber bands. They're defined by "raking light," a technique he developed. "Light comes from a low angle, bounces off surfaces and back onto the surface the objects are sitting on. Things start glowing and all kinds of amazing things happen."


In 1988 on vacation in Australia and New Zealand, he began to work outdoors in a serious way. "I found my next passion, the natural world," he says. He began photographing his signature subjects: rushing water, forests, trees, rocks, clouds, plants, often in environments marked by human intervention, a distant bridge, a winding road, a rustic fence. In 1994 he submitted a study of an agave plant to the CA Photography Annual. It made it to the cover, and that brought a big response by ad agency art directors.

Forelli's work has been in the Annual many times since, in the unpublished and institutional categories, as well as in major ad campaigns, such as the memorable 1996 BMW motorcycles series for Fallon McElligott Berlin. "It was the perfect assignment because they wanted the power and movement of the bikes as well as the majesty of the old oaks lining the road," he says. The art director, Marc Klein, explains: "BMW had just come out with a series of new models in beautiful new colors, so black-and-white was an interesting sell. In the end, the client understood that they needed to communicate what it's like to ride a BMW motorcycle, and artful black-and-white captures the feeling exactly. On the shoot Chip was remarkably adaptable and equipped to do anything we wanted to try, which included having laser triggers that allowed him to get the bike in exactly the right spot in midair."

Another notable campaign was for Médecins Sans Frontières/Doctors Without Borders, the humanitarian organization that provides medical care in countries torn by violence, catastrophe, epidemics, malnutrition. The agency was TBWA/Chiat/Day, and Klein, by 2000 a creative director there, again called on Forelli to make the images. This time the concept would hit people where they lived and worked: signs warning "Area Mined" in Central Park and "Sniper at Work" in midtown Manhattan. To keep within a nonprofit budget, the team dispensed with NYC bureaucracy and shot on public property with no permits. "Everything didn't go swimmingly," says Klein. "The NYPD came after us in about 30 seconds and Chip was run off by a Central Park ranger. Nevertheless, the shots he did were fantastic."
We're all surrounded by unrevealed visual gifts. When it comes down to it, it's all about the discovery of unexpected things and overlooked places that finally reveal themselves when the print emerges from the printer."


Not all of Forelli's work is black-and-white. He demonstrates his prowess with color on assignments like a four-day shoot for the Eclipse 500 Jet. The client, Gerry Pasqualetti, creative director at HSR Business to Business LLC, says that he'd spent a week fruitlessly searching for the right automotive photographer. "Then Chip's mailer landed on my desk. It was a beautiful, oversized black-and-white print titled Pipes at Sea. I thought, if this guy can make industrial pipes look this good, imagine what he can do with a jet," Pasqualetti says. "And he did it well under pressure. Because of jet-flight tests, they gave us fifteen minutes to set up the cover shot, not the half-day we'd requested. I started to panic internally, but Chip jumped right into action. He pulled out a compass, found the position of the sun, and directed the pilot exactly where to park the jet. Before he stepped off the ladder, the plane was on its way back to the hangar."

Forelli has been through the ups and downs of a photographer's life. "In the photography business, work never just came to you. But in the age of the $5–$10–$15 stock download, only the strongest survive, and you have to be an efficient multitasker." Today he earns his living primarily through selling rights-managed stock of his personal work through Getty Images. And like many photographers, he continues to explore new sources of income and new ways to promote and publish his work; for example, online services that let you upload photographs and design a custom, hardbound book, such as his recent Energy Imagery, beautifully printed on elegant paper for less than $65. Two of his pictures—Three Rocks and an Island and Steel Pier—were recently licensed by Apple as desktop image choices for all versions of OS X. He also sells fine-art prints through galleries, art consultants and his own Web site. After doing a mailing to 500 art consultants, 32 represent his work to corporations and institutions seeking art for their collections. He sells 50 to 100 prints a year this way, sometimes 30 at a time to clients like luxury hotel chains. Art consultants also bring in plum assignments, such as two weeks on location for Plains Exploration & Production, a Texas oil company. The biggest job of Forelli's career so far, it consists of 62 5' X 5' black-and-white prints exhibited in the lobby and offices of the company's Houston headquarters. The images were also used on the company's Web site and annual report. "It was a dream assignment," he says. "The directive from the CEO was, 'Work in your style. Do what you do.'"

What he does is shoot both film and digital for clients, though Forelli prefers film for his personal work. "Each way of shooting has advantages and disadvantages," he says. "With film, I can deal with extreme contrast and scan it at a resolution that allows for extreme enlargements." Most of his personal work is shot on T-Max 120 roll film with Hasselblads and 4 X 5 sheet film with a Linhof Technika 2000, a compact field camera that offers precise depth-of-field control and perspective corrections.
I'm an opportunistic photographer. What I shoot can't be categorized. My mission is to reveal the unexpected in a compelling way."


For twenty years he ran working studios—assistants, stylists and all the rest—in the neighborhood known as Hell's Kitchen, most recently on 42nd Street between 10th and 11th Avenues. In 2003, with three young sons, he and his wife Gloria, a painter, decided to move to a place with space, trees, froggy ponds and good schools. They found ten acres with a three-story, white clapboard farmhouse and barn near the Delaware River about two hours from the George Washington Bridge. "I'd experienced New York to the fullest, established a career and a name," Forelli says.

"I've never looked back and don't miss anything except not being able to have Thai food delivered at 2 A.M. Well, maybe I miss the camaraderie of New York photographers, but we've found an amazing number of artists in our area of Pennsylvania."

The Forellis have been busy enjoying family life and renovating the barn as studio space. With two floors, each about 750 square feet, it will soon have wraparound windows, banks of flat files, a darkroom, and ample space for setting up still lifes, teaching workshops and giving private instruction. Forelli taught at the Maine Media College for seven years and leads the weeklong Masters Photography Workshop at the New Jersey Media Center on Cape May, every summer. Now he'll be able to teach groups and individual students in his own space.

Although, as he says, everyone wants to learn Photoshop and how to make digital prints, the emphasis will be on seeing. "I have my camera with me all the time. I was just cruising in my car and came across it" is the answer to most questions about how he got the shot. "When I see something that speaks to me, there's this need to shoot it," he adds. "We're all surrounded by unrevealed visual gifts. When it comes down to it, it's all about the discovery of unexpected things and overlooked places that finally reveal themselves when the print emerges from the printer." ca