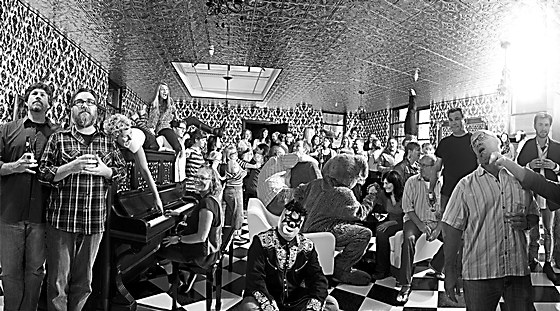 Every great agency has an essence. Think of the homespun straight talk from Riney. The provocative wordplay of Fallon. The in-your-face, take-no-prisoners irreverence of Della Femina. The emotion of Chiat/Day. The surreal iconoclasm of Crispin Porter + Bogusky. When it comes to San Francisco-based agency Duncan/Channon, its essence can be boiled down to a single word: guanxi.

Pronounced gwan-SHE, it is the essential ingredient in the secret sauce. And like most good spices, it infuses everything Duncan/Channon does, from its crystalline graphic design for Clos Du Bois—that took the winemaker from 700,000 cases to over 2 million—to its visually stunning national advertising for online bookmaker Blurb. Guanxi informs Duncan/ Channon's embrace of digital for the Lake Tahoe Visitors Authority. Driven by geolocated Twitter posts, the campaign features tweets posted to the hashtag #getyourvacationon. A favorite submission: "Invented a new drink. Gin & pine cones. Makes you immortal." At Duncan/Channon, you find guanxi influencing the clients it takes on, the way it decorates its office, how it hires creatives and, especially, how the agency has fun. And believe me, this agency has made fun one of its first orders of business.


Never heard of guanxi? Don't beat yourself up. Actually, Duncan/Channon had been doing business for years before a German machine tool salesman explained it to them late one night in a bar in Shanghai. At its most basic, guanxi means relationships. In the business world, it signifies trust, dependability and understanding. Interpreted by Duncan/Channon, it's the bond you build with a client after three days of business meetings followed by three nights of drinking. By day four, you've established a magnicent hangover and, if you've done it right, a sense of guanxi. In co-founder Robert Duncan's words, "It comes down to the three Cs: Camaraderie. Compassion. Creativity."

Or as executive creative director Michael Lemme says: "Your personality is your brand. At Duncan/Channon we let it all hang out. That's who we are, and how we do our best work."

Letting it all hang out is obvious from the minute you step off the elevator on the fourteenth floor of the Prohibition-era Adam Grant building in San Francisco's financial district. The elevator doors are wallpapered in orange-tinted posters of Duncan/Channon staffers captured mid-party. The receptionist sits behind a gleaming stainless steel engine cowling of what looks like a DC-9. The time warp continues. A glance at the magazine on the glass coffee table reveals Cheryl Tiegs in the Sports Illustrated swimsuit issue. She seems to be holding up remarkably well until, upon close examination you realize the magazine is dated 1983. And in the ultimate homage to retro-heritage, one flight up, on the fifteenth floor penthouse, Duncan/Channon maintains its own speakeasy, called The Tip.

Decorated in black-and-white wallpaper, a burnished pressed-tin ceiling, and featuring a fully stocked bar, The Tip has room for 100, and leads out to a garden where Duncan/Channon hosts Roofies, roof top concerts by its up-and-coming roster of recording artists. Yep, the agency has its own fledgling record label, Top of the Tip.

For Duncan, The Tip is "the temple of guanxi." It's where employees can kick back, bring clients and engage in what he calls "a little creative ferment." The Tip hosts a speakers series called Toast of the Tip, which has featured cultural luminaries such as wine revolutionary Gary Vaynerchuk, Lynda Carter (aka Wonder Woman) and Laura Duncan, sex researcher and authority on teledildonics. The frame of reference is wide, the topics are eclectic and the only thing not on the menu is conversation about advertising and the industry. As Duncan notes, "We're after a deeper strain of cultural engagement."
We guanxi all our new hires." —Robert Duncan


Before you think it's all fun and games at Duncan/Channon, Andy Berkenfield, general manager, is quick to point out, "We're a grown-up agency. We have real account people, media people and a planning infrastructure. We have a process."

LET'S DANCE
The process was years in the making. Twenty-one years ago Duncan was a frustrated creative director at Foote, Cone & Belding Direct. With the backing of a former client, he went out on his own from a garage in Fairfax, a town noted more for its aging, tie-dye-wearing hippies than its advertising.

His first hire? Parker Channon, perhaps the world's worst account coordinator in history. And, at the time, one of the best undiscovered writers in the industry.

"I went into advertising because I heard I could get a job that didn't require wearing a necktie," executive creative director and co-founder Channon says. "Unfortunately the job I got was as an assistant account executive at FCB. Which meant I did actually have to put on a necktie. Even worse, I was terrible at the job. My boss was so frustrated with my performance she took me to lunch one day and broke down in tears."

Over lunch at City Lights Books in North Beach, Channon divulged his secret wish to be a copywriter. Duncan, who could see Channon struggling in the account department, tried him out on a spec project. "The work was so good," Duncan remembers, "I asked, 'Who helped you?'"

For the next year at FCB, Channon became Duncan's "go-to" copywriter, until Duncan left to start his own fledgling agency. A year later, and with more work than he could handle, Duncan reached out to Channon. Apparently just in time, too.

"He kept shoving invoices from vendors behind his desk," Duncan laughs. "Nobody was getting paid, the vendors refused to do any more work, the whole system was grinding to a halt. I hired him about a minute before he was going to be fired."

"Duncan saved me," Channon says.

Twenty years ago, Duncan says, "We were writing, doing all our own production. We were an 'integrated' agency because we did everything ourselves." Channon continues, "We never wanted an 'interactive' department, any more than we wanted a 'print' or 'TV' department. We always wanted all the creatives to do all the creative work."

Lemme elaborates, "Our clients know digital is expected of them, and of us. Our job is to articulate the heart of the brand story and then extend that into every aspect of the company. The work can come in from any door. A client might need a new identity or TV spots. At the core we want to make sure the brand story is strong, then find the right solution, whether it's digital, print, broadcast or social media."

Today the 68-person agency still does everything itself, with the exception of hardcore coding it outsources to trusted partners.
Your personality is your brand. At Duncan/Channon we let it all hang out. That's who we are, and how we do our best work." —Michael Lemme


YOU MAY ASK YOURSELF, WELL, HOW DID I GET HERE?
When asked what transformed Duncan/Channon from a small shop in Marin County to an agency doing work for global clients, Duncan has a two-word answer: "Hard Rock."

Seven years ago, the company whose brand image had grown so lame it was mocked in the film Ghost World, Hard Rock had a new CEO, a new chief marketing officer, and was in desperate need of a top-to-bottom brand refresh. Invited to pitch by the CMO, Duncan remembers thinking, "We've been waiting for this all our lives." That insight was followed by the realization, "We had a business in spite of ourselves."

The pitch to Hard Rock included a hardbound brand bible simply called "Word." The little black book of Hard Rock was distributed to 500 property managers at their yearly leadership conferences. Positioning rock 'n' roll as a religion, and Hard Rock as its place of worship was the key insight that led to a revisioning of a stale brand. Instead of selling burgers and trinkets, Hard Rock turned to the essential energy of rock itself to provide nothing less than a transcendent experience for its visitors. Bold? Hell, yeah! But it worked.

A year after the brand book was distributed Duncan says, "We heard our own words coming back to us.

The next steps included making the holy relics of rock 'n' roll accessible. "With Hard Rock," Lemme says, "we started with a believable claim: They have the greatest collection of rock 'n' roll memorabilia on the planet. Mind bogglingly deep and unquestionably cool." Unfortunately for most people the collection was, in Lemme's words, "Conceptual. You couldn't get at it. And they didn't have a way to make it accessible."

Access came in the form of a whizzy new technology Microsoft was about to make public, called Silverlight. Featuring a plug-in called Deep Zoom, Silverlight can display thousands of images at once, and zoom in and out to an almost infinite degree. The effect is astonishing and a perfect use of technology to serve the needs of a vast collection of visually-rich memorabilia. Instead of seeing the collection in pieces, by deploying Silverlight on the web, 1,100 separate items—just a fraction of the collection—of Hard Rock can be displayed on a screen. Just how cool was the feature? Launched at a Microsoft Live Developers Conference in 2008, the Hard Rock Memorabilia collection put eight billion pixels on screen at once, and brought the audience to its feet.

"The next big brand project we took on after Hard Rock was for Duncan/Channon," Duncan says. "Our thinking was, 'Let's see if we can find a way to codify this thing without fucking it up. How can we create a sense of our culture without breaking it?'"

IT'S ONLY ROCK 'N' ROLL. (BUT I LIKE IT.)
Today, Duncan's office resembles a college dorm, but with better views. There's a guitar amp stuffed in one corner and video tripods poke out of a mountain of debris. The walls are bare, except for a five-foot-tall shield made by Duncan's wife, Ronnie Hoffman, who created it for a gallery show in Los Angeles called New Heraldry.

On a Friday afternoon, Duncan is getting ready for the latest Toast of the Tip talk. First, he has to change into an outfit that looks like it would be right at home in a fin de siècle bordello. It's clear he thrives on the culture of guanxi that he and Parker Channon have built.

"We guanxi all our new hires," Duncan says. "We tell them it's about building a relationship with each other, with the audience and with the client. They're just not going to be able to do great work without the client being involved. When a CEO says, 'I trust you guys,' that's how you get big." One of the images in the Duncan/Channon guanxi presentation to new employees is a photo of a wildly grinning Duncan in a headlock applied by the former CMO of Hard Rock Cafe. They look like they're having fun. ca